Here's an interesting topic & specimen.
Perhaps you will remember that back in 1984, NASA's Antarctic crew recovered AHL 84001. It was not until 1996, when NASA microbiologists re-reviewed this specimen and published their work in Science & Nature Magazines. What they had discovered were fossilized cyanobacteria deep within the rock from the frozen desert of Antarctica that had arrived some 13,000 years earlier. Their research & findings remain controversial even today, as some "protestors" argued the stone had been "infested" with terrestrial microbes whilst lying on the ice, and that Martian microbes weren't smart enough to have hailed a ride to Earth via meteorites. TAXI! TAXI!! (I've been to New York City, and not all are experts in hailing a cab. It takes a special voice & hand signal to get this done!).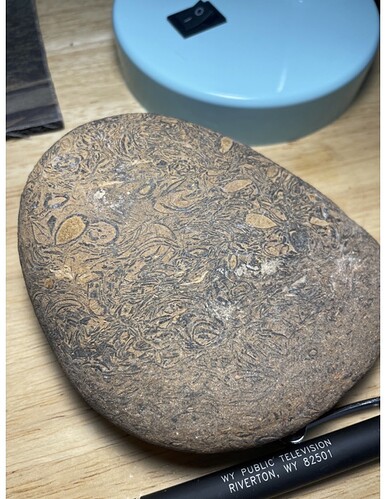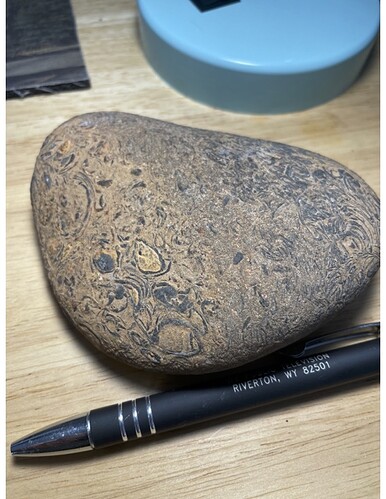 What we find in this specimen are single-celled amebic organisms, known as Flagellates and multi-cellular organisms known as Cyanobacteria; all recognized as the earliest forms of life on Planet Earth. This specimen is pervasive with both life forms.
The wedge shape of this specimen is in perfect alignment to its oriented atmospheric entry, The texture & color of one side is smooth and a darker shade, while the opposite side is lighter in color, rough and highly grained, which shows it is not a terrestrial sedimentary rock. It has spent very little time in water, and it has very little terrestrial weathering. Its general color is also a giveaway, as we know the Martian surface to be a reddish-orange. The surface of Mars is composed of FeO's (Iron Oxides). All FeO's are the result of that wonderful element/mineral known as H2O (Water).
As for its magnetism, it does draw a neodium (rare-earth) magnet. This attraction is due to magnetite & hematite; both of which are phases of Fe (Iron) during the decomposition of organic and/or biological life. (Check out NASA's discovery of "Martian Blueberries," which turned out to be hematite. Hematite forms as a result of the evaporation of acidic waters, as in Sulfur waters).
Everyone is certainly welcome to comment on this specimen, and to wish us well on our ongoing research of this peculiar specimen. Should our research bear fruit, or nuts, we will welcome all commentary.
If you should know someone involved in microbiology, be sure to share this post with them, have them contact us for a slice for their examination. We will be more than happy to oblige.
In closing; With 200 billion galaxies that exist beyond our local Milky Way Galaxy, the chances for Life is 100% possible, as we have discovered life on Earth. The difficulty will be in locating & finding Intelligent Life among these many galaxies. In order to find Intelligent Life "out there," we must first find Intelligent Life here on Planet Earth! The Cosmic Grand Jury is still in deliberations on this point. Perhaps "They" will find us, before we find them!! One can only hope!
Be safe "out there," and know that you are NOT alone!
Cheers & Finest Regards to ALL!