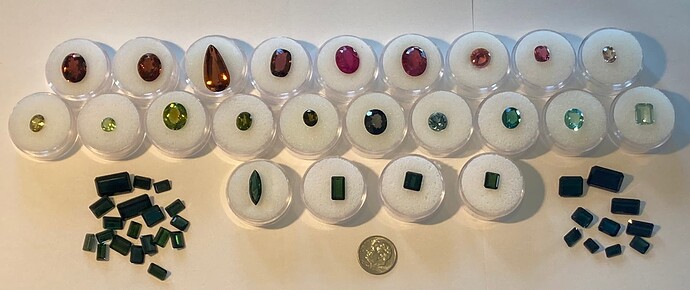 I wish my photography skills could capture the beautiful array of colors among my inherited collection of Tourmalines. The paper packets they arrived in help with identifications, but I'm learning so much about these stones that I now realize that saying "Tourmaline" is just the beginning. Rubellite, Indicolite, Paraiba, Chrome, etc. oh my!
In this picture, the top row, from left to right, has three that are referred to as "Brandy"; the next next six are shades of pink with two specifically labeled "Rubellite (the 5th & 6th from left); the second row has yellow and green up to the 6th stone that is either dark grey or light black; after that is one labeled "steel blue" then come the three I believe could be called Paraiba; and then the bottom collection are Indicolite? The cluster on the left are more of a green variety, and the cluster on the right show flashes of blue, and the four in the middle of the two clusters read blue and green in such equal proportions that I'm having a hard time nailing down a solid description.
Not photographed are several dozen of the Indicolite (?) variety that are so dark that it's pointless to try to photograph them; they look black in pictures even though I see blue and green when I hold them up to a light.
I'm doing my best to itemize all of these in the hopes of eventually selling them, so their identifications will be important. The dark grey/light black stone is surprisingly attractive, but it would be a stretch to call it purple.
I've also come to understand that "native cuts" represent a minimal amount of faceting, and I think many of these stones fall into that category.
Any additional thoughts about Tourmalines from the IGS community or comments about this particular array of stones would be welcomed and much appreciated.