I got a white 'Hydrogrossular Garnet' today from Afghanistan, via Pakistan. Only place with real info on them is Gemstone Magnetism
They mention green and pink versions fluorescing under 405nm laser light, but not the white ones. As you can see, it fluoresces.
Not tried SW or LW uv yet. Other than it's not so strong under LW uv.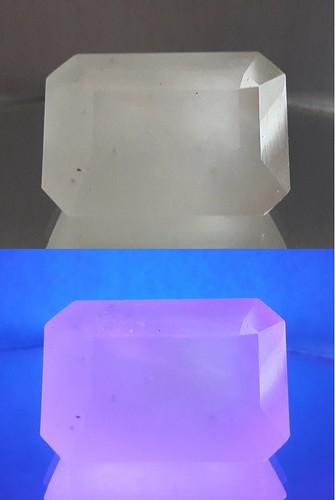 Focus is out a little bit, but you get the idea.
Anyone know anything about these stones, its possible it's a white Grossular one, but looks too milky to me.
I've not had time to do any RI or SG tests yet, I only got it this morning, and the fluorescence surprised me, so I thought I'd pop up on here and see what happens, if anyone knows anything about them.
I will post what i find with the tests at a later date.
It's 17.11cts 17.4x12.4x8.4mm approx