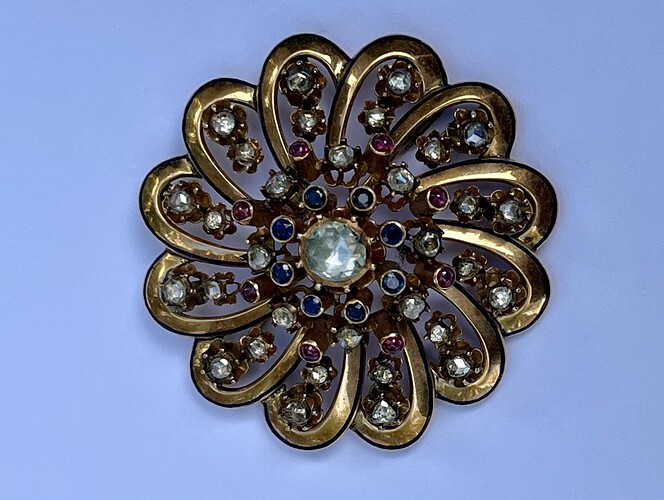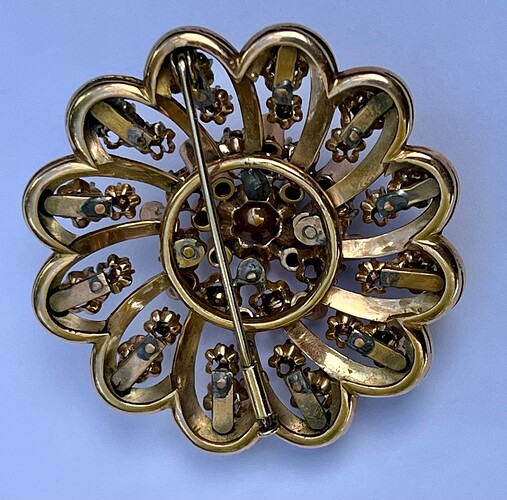 Hello,
I purchased this brooch with a bunch of other "costume jewelry", I have no provenance to accompany it. I noticed the stones were not glued in, so I proceeded to check the "white stones", and the blue center stone. Bingo……diamonds! The blue and red stones, I believe, are sapphires and rubies. It weighs 18 dwt. The center stone measures just under 1 carat. It's approximately 2" around. The back has a trombone clasp and lead solder marks.
But….no hallmark. I would appreciate any educated guesses as to age/country of origin??
I will eventually get a formal appraisal from a local, reputable jeweler, but unfortunately, there seems to be a shortage of qualified appraisers where I alive.
I also have a really great antique and vintage bead collection, and I am running into the same issue trying to get an expert to take the time to evaluate them.
Any suggestions are greatly appreciated.
Thank you kindly!!